Company
Caral vip Lounge is part of Network Leading Group (NLG), a private company dedicated to the representation and operations of airlines, hotels and hospitality, with more than 15 years in the tourism industry, NLG expands its products portfolio under a global vision of hospitality, offering airports and clients solutions under a concept of exclusive waiting lounges. As a result of this vision, Caral Vip Lounge is born, and they are located in Perú and México.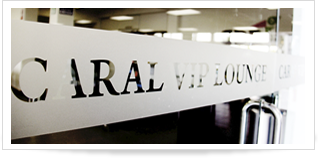 Concept
Caral vip Lounge Caral Vip Lounge gives you access to an exclusive ambiance with personalized service and comfort. Our lounges make reference to Peru´s essence, embodied in our architecture, decoration and products. A mixture of the past and the present, represented by the magical archeological complex of Caral and Pisco, a grape brandy well known trough out the world. Caral Vip Lounge is created thinking in the frequent flyer, tourist or executive who are trying to get away from the stress of conventional boarding lounges, surrounding them with a sensation of comfort and exclusiveness. Making them feel at home. Perfect combination of modernity, technology and comfort makes it the perfect way to start your trip.
The lounges have an all-inclusive system were you can find a variety of snacks, drinks and other services.
Membership
Priority Pass, Lounge Club, Lounge Key and Lounge Pass : It allows you to fully access our lounges and its services in Perú and Mexico. You can acquire the membership that fits your travel frequency in their websites.

Diners Club Card It allows you to fully access our Caral Vip lounges and its services in Perú.

(*)For terms and conditions please contact your bank.
Caral Vip Lounge all rights reserved