News
CARAL VIP ENTERS MEXICAN MARKET
Since our first lounge opening in 2011 in Lima, we have witnessed a continuous growth and the satisfaction of our clients. Caral Vip Lounge is now an important part of the travelling experience to many families, business people and friends, who begin their journey with us.
Due to the success of the lounges in Perú, the next step was to take the concept outside the country; a vision of expansion that begins in Mexico. The company has planned to open 6 lounges by the end of 2015; the first four are going to be located in the cities of Villahermosa, Mérida, Cozumel and Minatitlán. The last two are going to be in Culiacán and Zihuatanejo, this 2 belong to OMA, Grupo Aeroportuario Centro Norte; while the fisrt four belong to Asur (Aeropuertos del Sur).
Villahermosa and Mérida are planned to open on October 2014, and Cozumel and Minatitlán on December 2014. These lounges will offer the same services that we have in Perú: drinks, wifi, computers, television, magazines, newspapers etc. You can access the lounge using your Priority Pass membership.
This new challenge is taken by NLG Holding as a reflection of the effort, hard work and dedication of the company that year after year keeps growing an innovating in the tourism and aviation world.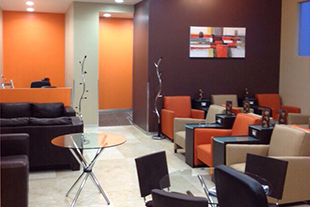 CARAL VIP LOUNGE RECEIVES BEST SERVICES 2013 AWARD
Lima Airport Partners recognizes Caral Vip Lounge with the most relevant award in the service category.
Caral Vip Lounge, located in the domestic terminal of Jorge Chavez international airport in Lima, Perú, has been awarded with the Best Service 2013 price by the well-known company LAP (Lima Airport Partners), the airport operator.
On March 22 Lima Airport Partners offered a gathering for its clients which took place in the touristic restaurant Huaca Pucllana. After an emotional introduction they proceed to present the awards, Caral Vip Lounge won the main recognition thanks to its innovative proposal of comfort and excellent service.
"Our success is the result of a joint effort from a whole team of professionals to whom the service culture is an implicit priority, it´s an honor being recognized for this concept and extremely motivating" said Martin Bezada, Executive Director of Network Leading Group, operator of Caral Vip Lounge.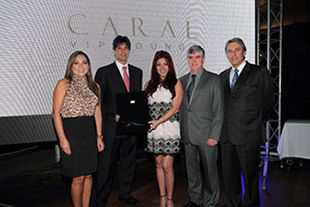 SUCCESSFUL INCURSION OF CARAL VIP LOUNGE THROUGHOUT PERÚ
The Peruvian company NLG Holding, operator of Caral Vip Lounge, is experiencing a well-earned positioning in the national market thanks to its innovative proposal of comfort an excellent service.
After the success of its first lounge in Lima, opened in 2011, NLG Holding took its concept to different cities in the country. The results were a great surprise; such is the case of Piura that in its first week exceeded the expectations regarding the amount of passengers.
Seeing this, the opening of Caral Vip Loung Trujillo, Chiclayo and Cajamarca was imminent with
in the next 6 month. Tumbes was next; a land of forests, beaches and mangroves. Tourists are attracted to its beaches, landscape and extreme sports. Annually Tumbes welcomes around a hundred thousand tourists; this represents a big opportunity to keep expanding.
Among the services Caral Vip Lounge offers to its passengers are included WiFi, computers, snacks, alcoholic and non-alcoholic drinks etc. You can access the lounge using your Priority Pass membership or paying a $25 charge.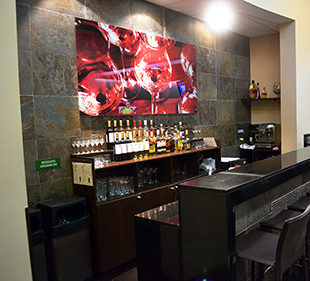 NLG HOLDING: 15 YEARS OF SUCCESSFUL OPERATIONS
Network Leading Group is celebrating its 15 anniversary; this important event was commemorated with a cocktail in Huaca Pucllana restaurant this August 21st. The attendees took part of a journey through the company history, remembering its initiation, and taking a look into the future for what is to come, it was a celebration of trajectory.
A mixture of remembrance and vision into the future stand out in Vilma Schenone´s speech, CEO of NLG USA and funding member of the network, who invited everyone there to be a part of new experiences and opportunities.
During the presentation you could see the continuous growth in the commercialization and operation scope of various airlines, and the representation of service and tourism companies like hotels, VIP lounges, travel insurance, plus consulting and marketing. The theme of this anniversary is "15 years integrating" which is reflected in the consolidation of the company as a leader in the market, capturing different business opportunities demonstrating solidity and service guarantee.
"Our commitment is a two way street, generate growth and profits for the companies that trust us with their products and ensure quality service, communication and know how to our local distributors, the agencies that trust us with its client, final consumer" said Vilma Schenone. "We haven´t change, we grew. Our globalized human factor represents the success of our operation, 15 years integrating, always avant-garde open to the constant change of this complex industry of aviation and tourism"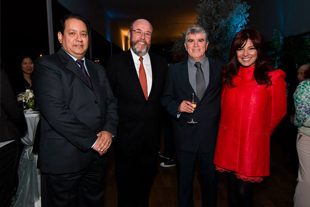 Caral Vip Lounge all rights reserved